OPENING OF THE ADMISSION WINDOW FOR 2023/2024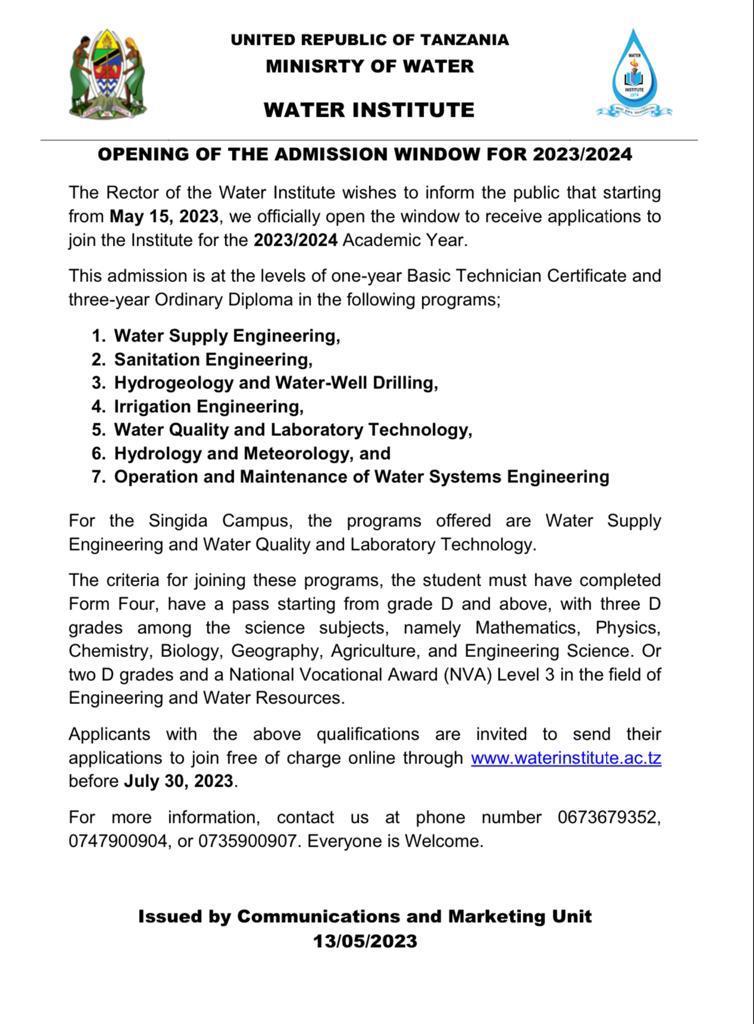 The Rector of the Water Institute wishes to inform the public that starting from May 15, 2023, we officially open the window to receive applications to join the Institute for the 2023/2024 Academic Year. This admission is at the levels of one-year Basic Technician Certificate and three-year Ordinary Diploma in the following programs;

1. Water Supply Engineering,
2. Sanitation Engineering,
3. Hydrogeology and Water-Well Drilling,
4. Irrigation Engineering,
5. Water Quality and Laboratory Technology,
6. Hydrology and Meteorology, and
7. Operation and Maintenance of Water Systems Engineering

For the Singida Campus, the programs offered are Water Supply Engineering and Water Quality and Laboratory Technology.
The criteria for joining these programs, the student must have completed Form Four, have a pass starting from grade D and above, with three D grades among the science subjects, namely Mathematics, Physics, Chemistry, Biology, Geography, Agriculture, and Engineering Science. Or two D grades and a National Vocational Award (NVA) Level 3 in the field of Engineering and Water Resources.
Applicants with the above qualifications are invited to send their applications to join free of charge online through www.waterinstitute.ac.tz before July 30, 2023.

For more information, contact us at phone number 0673679352,
0747900904, or 0735900907. Everyone is Welcome.